New dark Base protection to keep fresher for longer!The smart ventilation feature regulates air and humidity, while the dark base protects from sunlight - keeping your kitchen staples cool and fresh for longer. Buy in Bulk and save More! With the large capacity of 5.5L, you can now store up to 4.7kg of potatoes. Lesser trips to the grocery store.Set consists of 2 sizes - 3L, 5.5L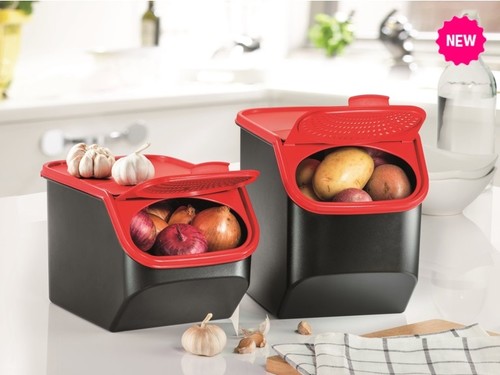 Garlic-N-All-Keeper SetComprises:1/ Garlic-N-All-Keeper (1) 3L2/ Garlic-N-All Keeper (1) 5.5LValue Added: Free 1 x Potato Mash - 1 piece Dimensions:Garlic-N-All-Keeper 3L - 28.8cm (L) x 18.8cm (W) x 17.2cm (H)Garlic-N-All-Keeper 5.5L - 28.8cm (L) x 18.8cm (W) x 22.8cm (H)Mash It - 27.4cm (L) x 9.1cm (W) x 8cm (H) Garlic-N-All KeeperKey features and benefitsCustom designed hole ventilation - Allows breathing flow and ventilation so garlic and potatoes can last longer.Dark base - Keeps potatoes away from light. This reduces the production of the toxin Solanine, while minimizing shrinkage, softening and wrinkling.Stackable design - Improves storage efficiency.

Mash It - Versatile enough to mash almost anything!1/ Long handle - can be used in deep saucepans.2/ Oval shaped masher - Ensure better reach.3/ Sharp and angled edges - For a smoother mash.4/ Easy-to-clear holes - Prevent wastage of content. Love mashing things up but hate how difficult its using a fork or spoon? You will love using our Mash It. this Mash It is sturdy, strong, coomfortable, and has following uses:Puree potatoes smoothly.Also suitable to mash pumpkin, peas, fruits and vegetables.
The handle is long enough to be used in deep saucepans. The holes are shaped to be easy to clear as you are working so you can control the contents and avoid any splashing of the ingredients plus it is easy to clean. Extraordinary Design for Everyday LivingAt Tupperware, we are committed to design excellence. For over 60 years, we have been successfully finding ways to make everyday living simpler and easier. The innovative ideas behind our products make them work better, look better and last longer. We take care to make all our products extraordinary. Whats covered by Tupperware Lifetime Warranty?Tupperware products are todays ideal solution for reducing plastic wastes. Because they dont need to be recycled - they are made to last for a lifetime. And if you ever need to part with your Tupperware products, return them rather than throwing them away. Tupperware will replace any products that are chips, cracks, breaks or peels under normal, non-commercial use for the lifetime of the product. Tupperware Use & Care - for more information, please click the following link:http://www.tupperwarebrands.com.my/quality_use_care.php
How to combine Shipping?We are more than happy to combine postage. Simply select the items you wish to purchase by clicking Buy It Now button in each listing but dont pay for them. Once you purchase all of the items that you would like to purchase, send us a message asking us to combine the invoice. Once we have sent you a combined invoice you can proceed to pay the invoice with the discounted postage.